Ojibwe Musician, Producer & Entertainer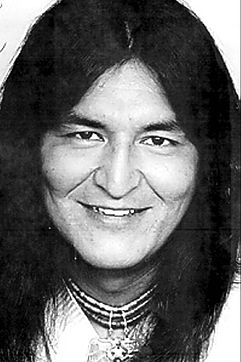 Born on the praries of Manitoba, Shingoose born Curtis Jonnie is an influential musician and producer. Shingoose toured and performed with several groups and festivals throughout much of the 1960's and 1970's.
In 1969 Curtis Jonnie signed to ABC Records in Washington D.C where he was produced by Eddie Kramer. Through Kramer, Jonnie met many other influential artists of the time such as John Lennon, Bruce Cockburn & Jimi Hendrix .
Later establishing himself as a producer, in 1986 Jonnie received acclaim for his production of the series Indian Time, airing on CTV, Global, Bravo and PBS featuring performances by Tom Jackson, Buffy Sainte-Marie, Laura Vinson, and other Indigenous performers.
Raised by a Mennonite family, Jonnie is Ojibwe having grown up on the Rosseau River Reserve. Jonnies return to Winnipeg in 1973 from previous years in the USA is when he became more actively involved as an activist of Native issues in North America. In 2012 he was inducted into the Manitoba Music Hall of Fame.
Out of Time
"It isn't often or safe, when you tell a musician he's "out of time" but that is the most obvious way to describe Shingoose. The man has always been "way ahead of his time". Shingoose presents the native point of view, by combining thought provoking prose with modern rock, jazz and popular music styles, and state of the art technology. He takes us back to the past and into the future with hope instead of despair. He shares his way and accepts others. At the same time, Shingoose is entertaining and interesting. Natural Tan is all these things, and, quite simply, one hell of a good album for those who like popular, contemporary rock with a message."

– Don Marks, Broadcaster
In A Good Way – Laughter As Medicine
(2018)
Film Directed by Beth Azore
"IN A GOOD WAY" explores the healing power of Laughter both to individuals and communities. Features the talent of comedians PAUL RABLIAUSKAS, FLORENCE SPENCE and Indigenous entertainment pioneer SHINGOOSE. Includes rare archival footage of CHARLIE HILL and MAX GAYLE
Genre: Documentary
Producer: Madel Media Inc.
Director: Beth Azore
Music: Modulok, Shingoose
Pioneering Performer
(2016)
Winnipeg Free Press Article by John Einarson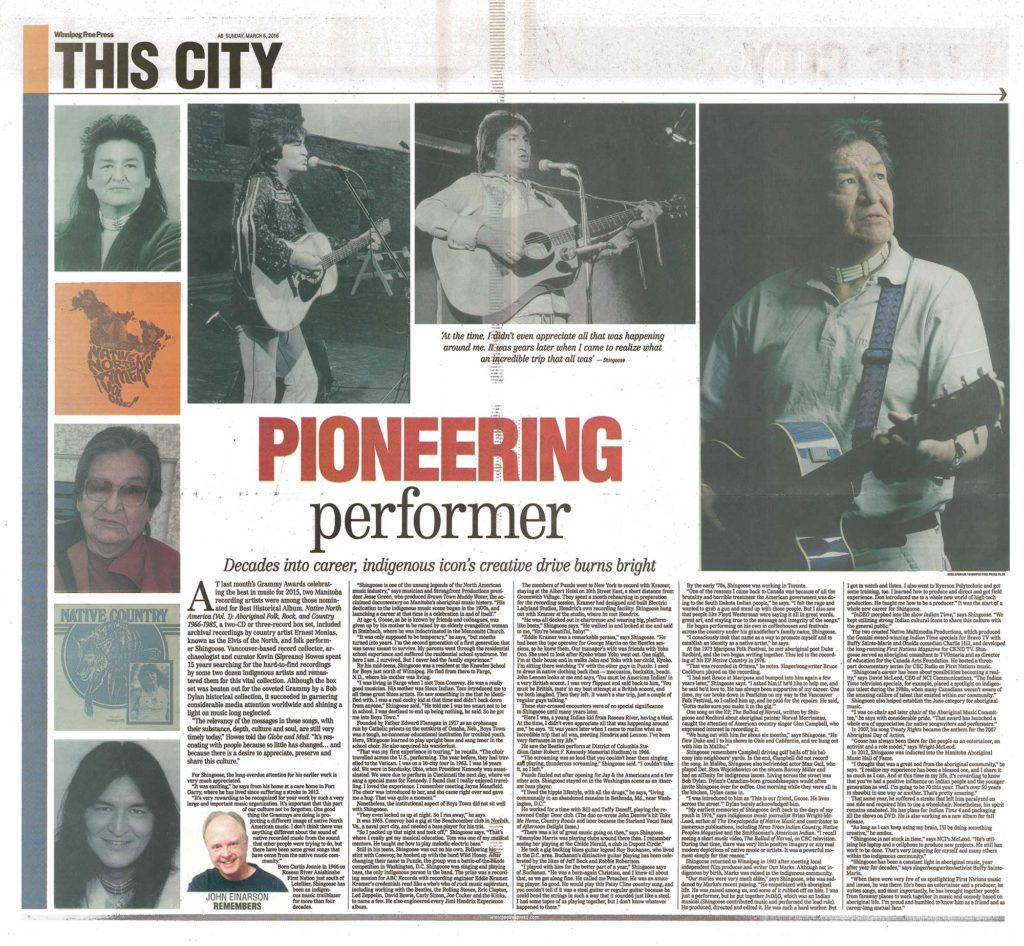 Native North America
Winnipeg Album Launch at Plug In ICA 2016 – featuring Shingoose
"Plug In Institute of Contemporary Art was pleased to present Native North America, a special event that brought forward an underrepresented but key and complex aspect of Canadian cultural heritage. This evening of performance, discussion and film featured legendary musician Shingoose (Curtis Jones), David McLeod from NCI FM, – The Spirit of Manitoba, and Vancouver-based music historian and producer Kevin "Sipreano" Howes."
Portraits of the North
(2017)
Text & Art by Gerald Kuehl
Curtis Jonnie has been honored to be included in Gerald Kuehl's masterful work of portraits as seen in his recently published work Portraits of the North. View Shingoose's page on the books website here .
Portraits of the North is available at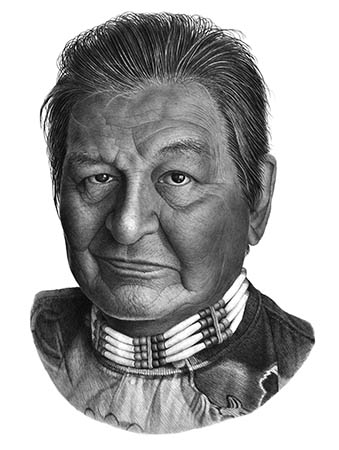 Winnipeg Folk Fest 2016
Shingoose Performance
The 2016 Winnipeg Folk Festival featured a showcase of Canadian Artists included on the compilation release Native North America Native North America (Vol. 1): Aboriginal Folk, Rock, and Country 1966–1985, put out by Light in the Attic Records, produced by Kevin Howe. The Native North America compilation was recently nominated for a Grammy Award in 2016 under the category of Historical Album of the year. The Winnipeg Folk Festival brought in featured artists Willie Thrasher (along with his partner and musican Linda Saddleback), Willy Mitchell, Duke Redbird, Eric Landry and Manitoba's own Curtis "Shingoose" Jonnie (accompanied by Jesse Green on guitar who often works with Buffy Sainte Marie). Did you know that this would be Shingoose's seventh or so time gracing a Winnipeg Folk Festival stage?
Shingoose performed his version of Duke Redbirds "Silver River". It was a beautiful day out on the festival grounds and the stage audience was packed to great anticipation. The audience was very excited to enjoy the authentic, high quality folk that came from the showcase. The show drew out the likes of Winnipeg Mayor Brian Bowman and Winnipeg Folk Festival Director Chris Frayer who enjoyed the show from the side of the stage. David McLeod of NCI fm was there to support and document the event and all photos included here are credited to him. Thank you David for the excellent photographs 🙂
Tipi Tales
(2002 -2007)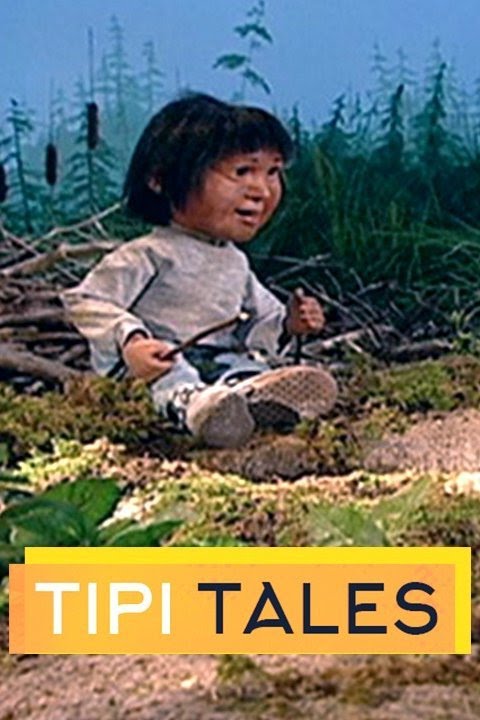 Curtis 'Shingoose' Jonnie was part of the cast of Tipi Tales, voicing the character Wolf.
"Tipi Tales was a Canadian TV series about a Canadian First Nations family living in a woodlands cottage that focused on teaching children about the importance of family and friends, as well as First Nations culture."
https://en.wikipedia.org/wiki/Tipi_Tales
Indian Time (1989)
Curtis Jonnie produced the acclaimed TV special Indian Time. It was a variety show of Indigenous performances and as a success returned for Indian Time 2 & 3.
The Paradox of Norval Morrisseau (1974)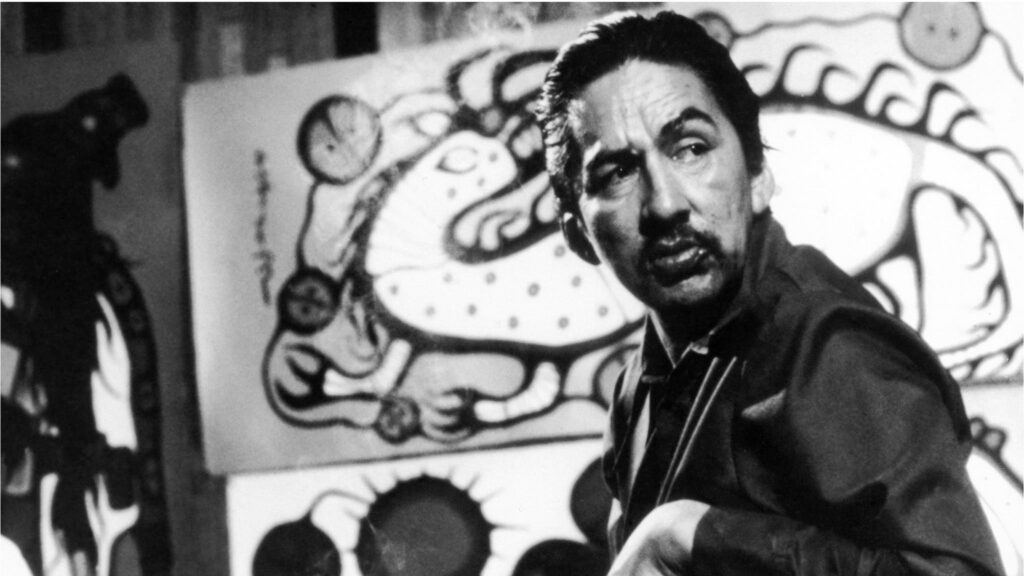 In the late 1960's Curtis Jonnie was the bassist and vocalist of the band Puzzle. Signed by ABC Records, Puzzle was produced by Jay Senter and Eddie Kramer (Kramer is famously known for producing Jimi Hendrix). Band members also included the late guitarist Tony Grasso and drummer Mike Zack (Jonnie and Zack had previously played in the band Wild Honey together).
Learn more at
http://badcatrecords.com/BadCat/PUZZLE.htm
Puzzle may be one of Washington D.C.'s best late-1960s rock outfits.

http://badcatrecords.com
Save